Jon Wynn's Case Study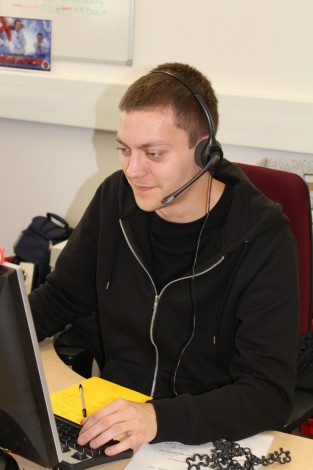 Jon approached the Law Centre about volunteering after speaking to a previous volunteer who had moved on to paid employment. Previously he had received Job Seekers Allowance, however, following a number of issues and sanctions he decided to come off it. The only money he received was from family, plus some money from 'gigs' that he and his band played at although this was not consistent nor regular.
Due to the late nights from 'gigging' and no reason to get up in the morning, Jon become nocturnal and his health was starting to decline. Jon had a constant cold that he could not get rid of.
At the informal interview, Jon struggled; he felt he had nothing to offer. It wasn't until the panel gave support and guidance, and asked him to base his answers on the band that he came alive and could answer the questions. He was surprised and relieved to hear that the Law Centre paid for his travel expenses and lunch.
Jon was quiet throughout the class room based training, again he felt he had nothing to offer, especially compared with others on the course, some with having achieved degrees.
On completion of class room training, Jon moved on to 1:1 training and observed the assessment team in action. He soon realised a Law Degree is not necessary for the volunteering role. He was happy and comfortable talking to people and putting them at ease, he could also type and soon started volunteering two sessions a week. After a few months Jon started to support others with ICT queries and became an invaluable member of the assessment team.
The session supervisor could see his confidence building on a weekly basis. His health and outlook on life started to improve. He continued to 'gig' but the flexibility of volunteering allowed him to change his days when necessary to recover from a late night!
Through the job adverts circulated from local agencies, Jon became aware of a job on reception. The Law Centre provided guidance and advice on CV writing, application forms and interview techniques. He was unsuccessful on that occasion but was not deterred and a few weeks later applied for another job where he was successful.
Jon has worked part time since February 2015 and continues to volunteer for the Law Centre once a week, and 'gig' in local areas.