Home For Good: A History of Social Housing in North Eastern Derbyshire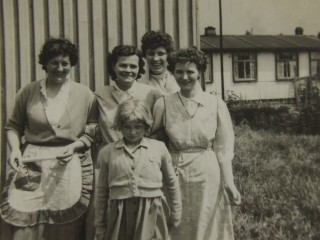 We were awarded funding by the Heritage Lottery Fund to explore the history of social housing in North Eastern Derbyshire including the boroughs of Chesterfield, North East Derbyshire and Bolsover. The project ran from April 2015 to January 2017, and collected oral histories, film, photographs and written stories provided by local residents of social housing. As well as exploring the legal background to changes in social housing, we brought together the shared experience of local communities, and promoted awareness of their history and heritage.
We were helped by a substantial team of volunteers with wide variety of skills and experience. Their help and expertise gave the project a breadth and depth it could not otherwise have achieved.
The legacy of Home for Good is a website, which features a timeline of legislation affecting social housing from the first almshouses to the present day as well as material collected by the project. Oral histories can also be found on Soundcloud, and filmed interviews are on YouTube.
Exhibitions and events were held at various locations throughout Chesterfield, North East Derbyshire and Bolsover, including most libraries in the area and Chesterfield Museum.