Debt – specialising in housing-related debts
We provide free legal advice and assistance about a wide range of debt problems to the residents of Derbyshire. Sue is an experienced  Solicitor, and Sally holds the Certificate of Money Advice Practice. Both are Debt Relief Order Intermediaries.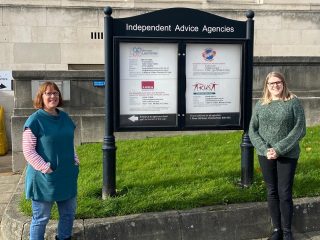 The Law Centre recognises the emotional and financial difficulties that our clients experience when trying to pay their debts.  It is never too late to seek advice. For free legal advice, contact the Law Centre on 0800 707 6990.
The services that we offer to clients include advice on:-
Different strategies for dealing with debt.
Negotiating repayment plans with creditors.
Bankruptcy / IVA / Debt Relief Orders.
Whether you are liable for a debt.
Representation at Court
We run a Duty Solicitor scheme on housing days in the County Court.  We represent tenants and mortgagees who are at risk of losing their homes due to rent and mortgage arrears.  This service is for people who have not already instructed a solicitor.
What we Do
We:
Provide free legal advice and assistance on all debt matters to the residents of Derbyshire.
Specialise in housing-related debt, such as rent and mortgage arrears.
What we Don't Do
We don't advise:
Creditors.
on business debts.
GET IN TOUCH